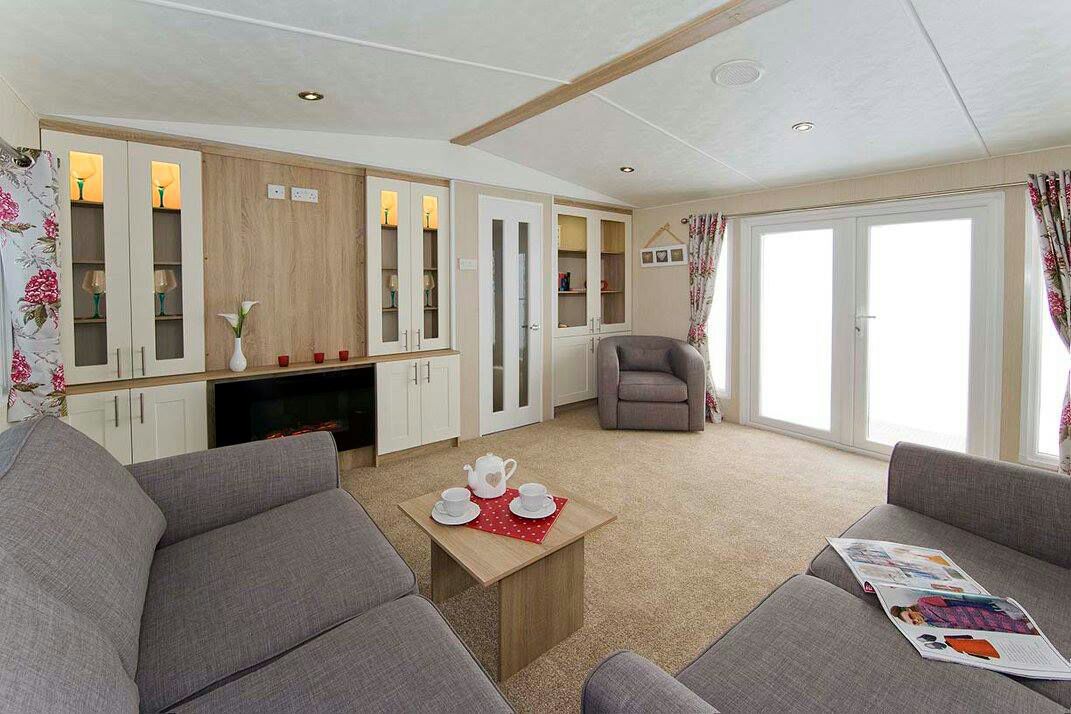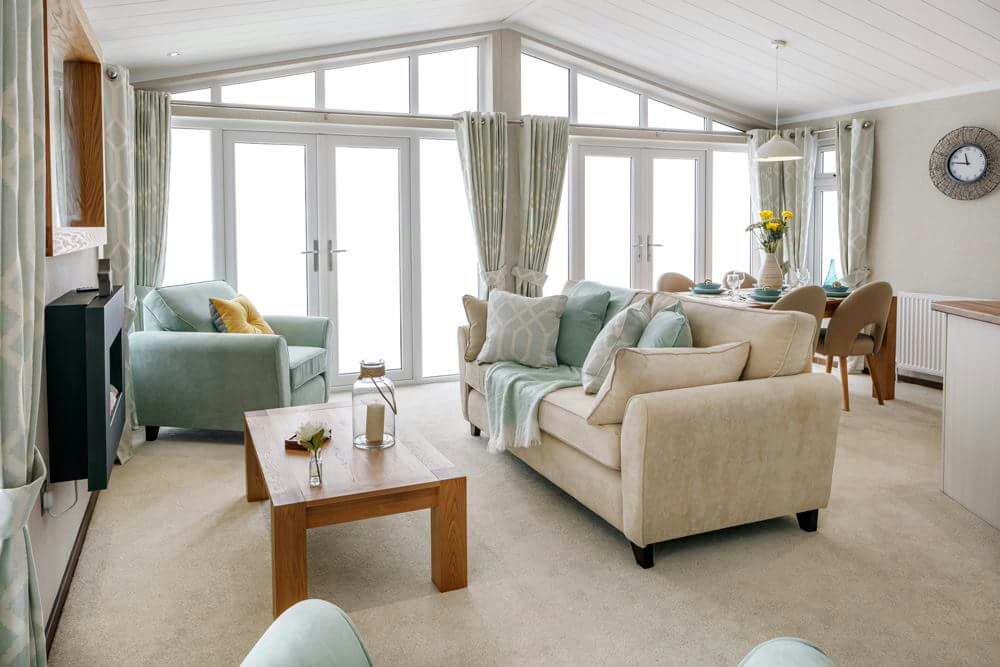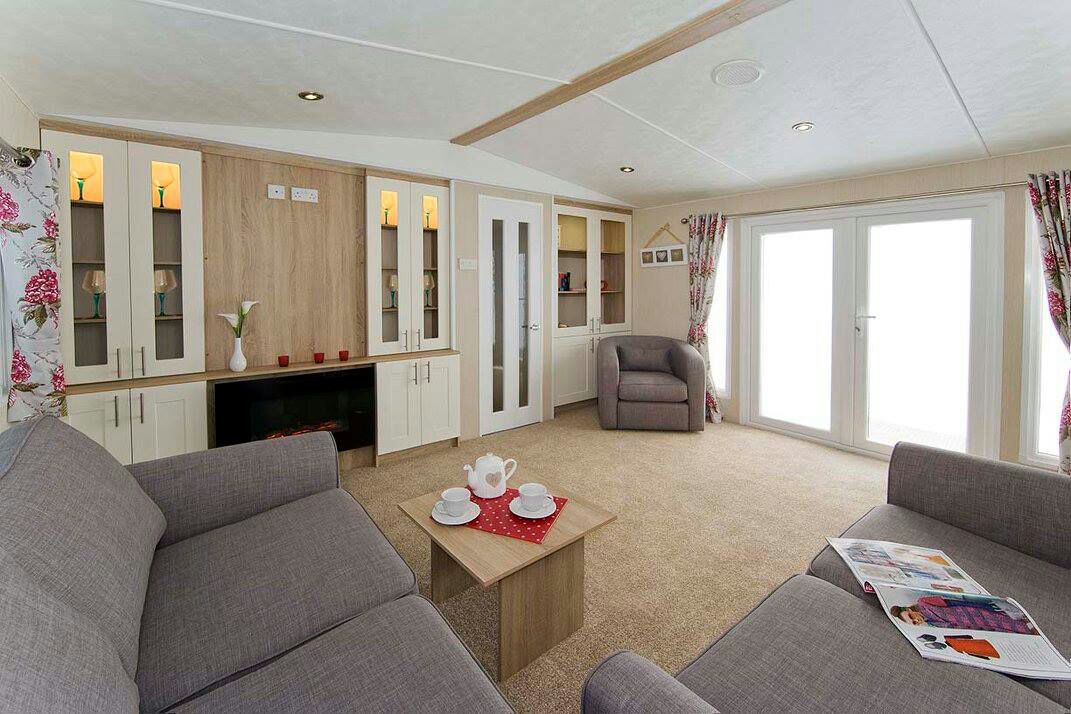 Leaks and Floods
Flood Restoration
The most common park home and static caravan restoration is due to an escape of water. This often results in damage to floors, floor coverings, insulation, walls, wallpaper, melamine units, doors and frames.
Moisture-resistant Flooring
All Affected Materials Replaced
We remove all the damaged floor and replace with top quality moisture-resistant flooring sheets and the underfloor insulation that has been affected is replaced. New flooring will be fitted flush to the unaffected areas with no sign of repair. When we do repairs to floors, the customer will be left with a good, solid floor that will last the life time of their caravan/park home.
Depending on the extent of the damage once the new floor has been layed we will then proceed to replace any water damaged timber framework in the walls, fit new wall boards and re-paper. At this stage floor coverings will go down and the units will be re-fitted, replacing any that are water damaged. Plumbing work would be finished and tested.
All work is fully guaranteed.
Escape of water
Leak from toilet inlet
The toilet inlet valve failed this B.K Bluebird static caravan, the water leaked out for over a week. The floor had to be replaced along with some kitchen units and all the bedroom furniture. We re-decorated the full back end, then fitted new carpets and vinyl. New floors are always fitted under the walls for support.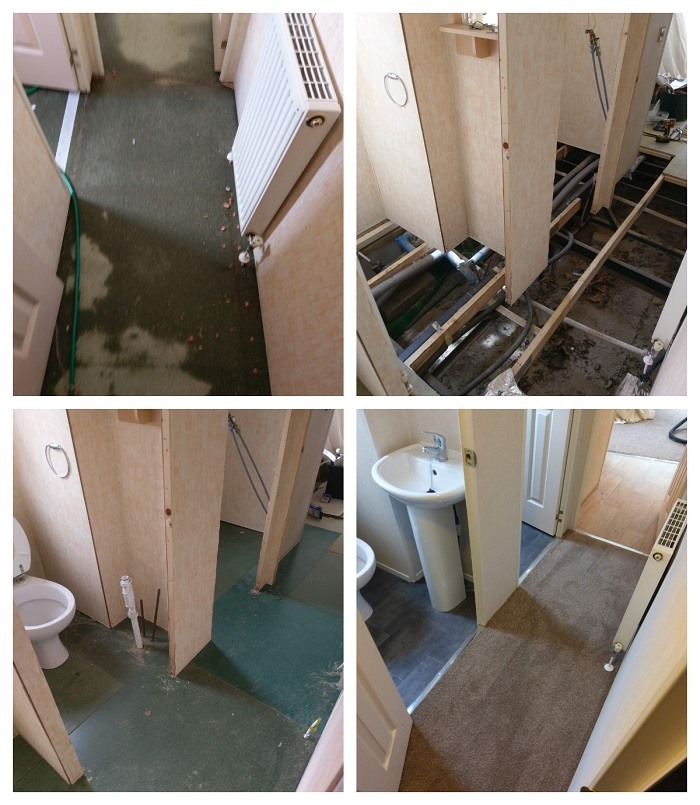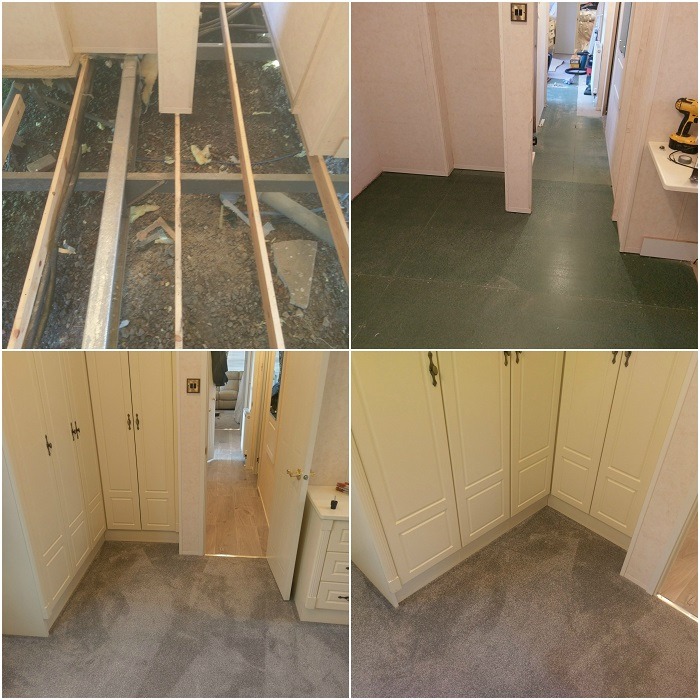 Flood from the shower room
Complete new floor
Here is a flood repair after a major leak in the bathroom this Atlas static caravan. This customers floor had been soaked from the lounge to the back end of the caravan. We replaced all of the damaged the units, floors, insulation, door frames, floor coverings and re-decorated the water stained wall boards.
Leak from dishwasher
Kitchen floor
This Pemberton caravan had a leak from the dishwasher. The water ran underneath the vinyl, unnoticed for some time, consequently the floor felt spongy. We removed all of the kitchen base units to access the damaged floor, we also replaced the units which had soaked up the water and fitted new wall boards.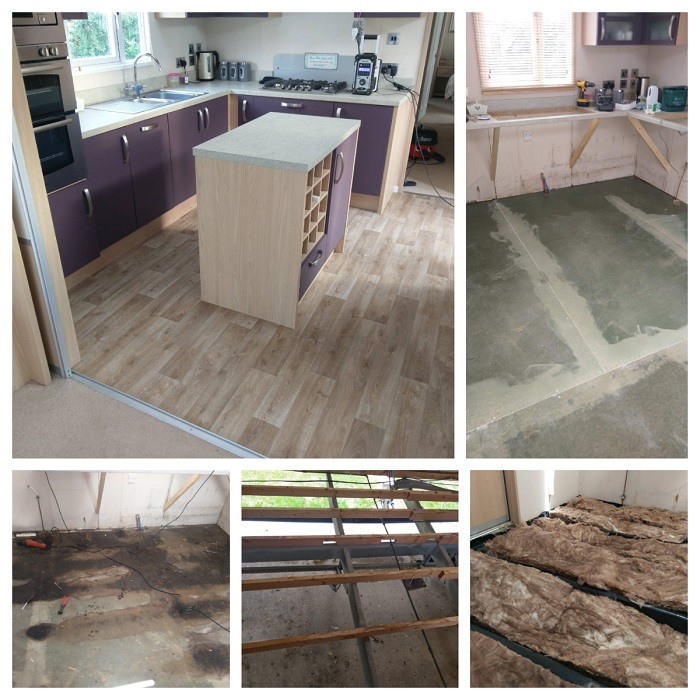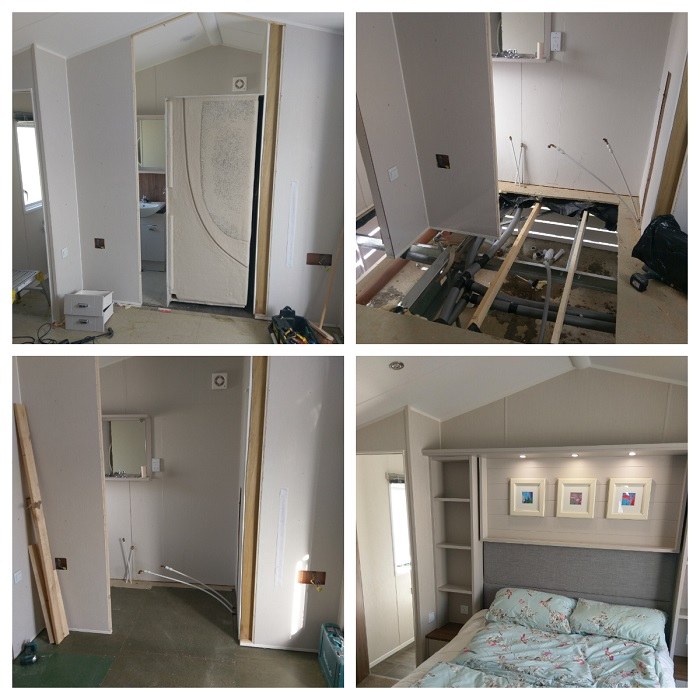 Burst pipe in the shower room
Floor under shower
A major leak in the shower of this Willerby caravan, due a frozen pipe that had burst behind the shower, leaking for for a couple of weeks. We installed an industrial dehumidifier to dry-out this caravan. Some areas of the floor still required replacing including under the shower pod. To access the floor beneath the shower the internal wall was removed to move the shower out of the way. Once the work was completed it looked like a new caravan again.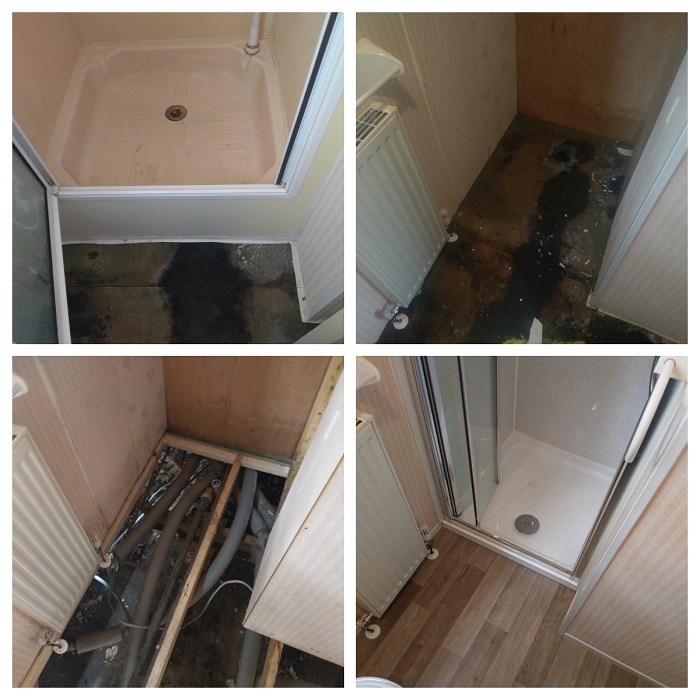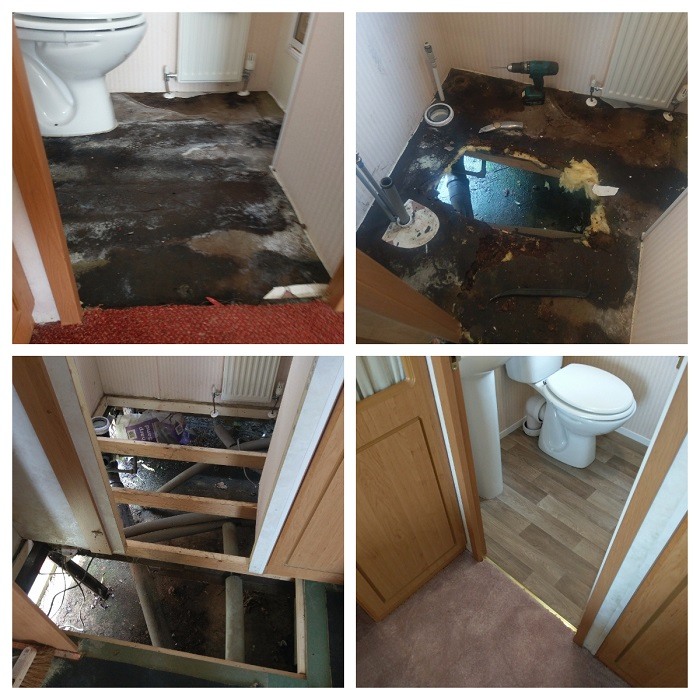 Leak from basin waste
New floor in en suite
Miss Hicks wrote:
"I would like to recommend Nationwide Park Home & Caravan Repairs.I have just had some major work carried out on our Static Caravan by these people (Scott Rowntree and Mark Webster). From day 1 they were very professional and very helpful, their workmanship was extremely good and when they left they did an excellent job of cleaning up after themselves and everything was left in a very good condition.
They couldn't have been more helpful if they tried. A huge thank you to both of the lads and I would recommend them for any job you need doing in your caravan either large or small - they can be contacted on 07717152282, they are also on Facebook and can be found on Google.
Thank you again lads" Click Here for source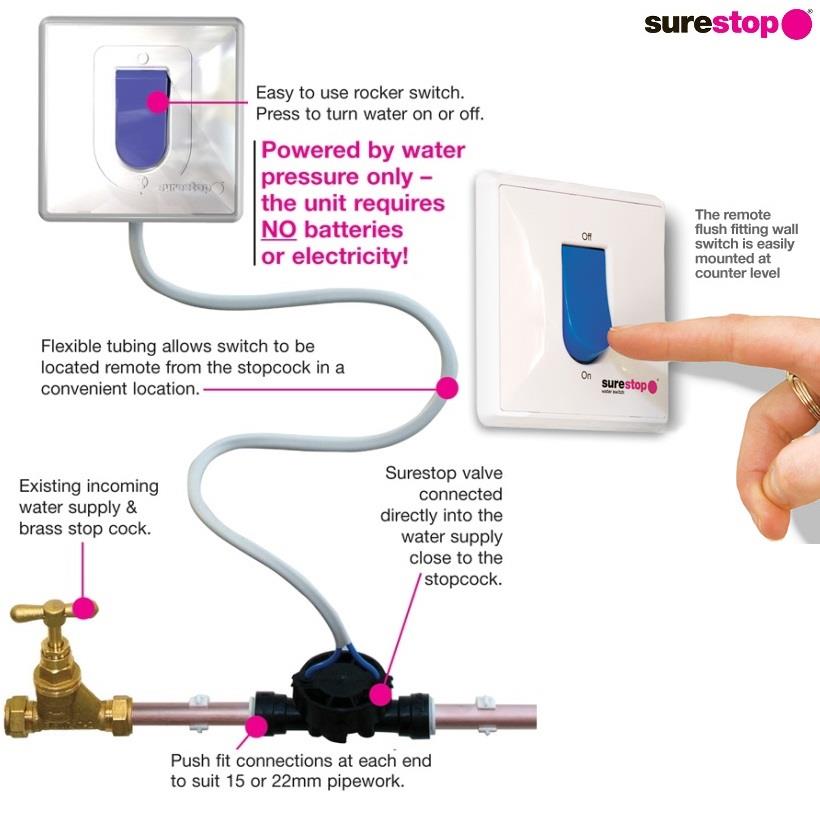 Special Offer
We believe in the prevention of water escape and to help our customers with this, we are offering to supply and fitting of a surestop remote stop cock for free with all floor replacements. We always advise park home and static caravan owners to turn off their water supply when the unit is unoccupied. Stop cocks are difficult to access, usually stiff and don't always stop water completely. With this amazing device the water supply can be isolated with the flick of a switch.